Haste don't make waste: Neophyte PH Womens Volley team pulls off emphatic win and then some
1. Valdez posts Asian league-leading 25 points per game on swollen right hand
Multiple blocks can't stop her, and so a swollen right hand absolutely didn't get in the way of Alyssa Valdez in averaging a tournament-best 25 points per game in the 1stAsian Under 23 Volleyball Tournament.
Valdez fired 31 points in PH's debut four set loss against Iran wherein she suffered swollen right hand while going for a block in the second set. But she showed no signs of slowing down come Day 2 vs. Kazakhstan, blasting her taller opponents with a game-high 19 points to lead PH to a 25-19, 25-11, 28-26 win.
Valdez's right spiking hand was heavily taped during the match vs. Kazakhstan.
With the PH win vs. Kazakhstan, Filipinos are guaranteed to see more of Valdez's backrow attacks, powerful spikes, drop balls and charging service aces in the quarterfinals.
"Si Alyssa, matapang 'yang batang yan. Kapag sinabi niyang gusto niya, maglalaro siya. Kaya ko nga siya natawag na 'Baldo' dahil kahit nasasaktan na, hindi dumadaing," PH Team Roger Gorayeb added.
2. 12 Dindin Santiagos equal Asian team
How hard is the Team Philippines' task to win games vs. their seasoned rivals in the Asian Under 23 Volleyball tourney?
Like battling 12 two-time V-League MVP Dindin Santiagos at the same time hard, per PH Coach Roger Gorayeb.
"It's difficult because it's like we're facing teams with 12 Dindin Santiagos," Gorayeb said.
And the comparison is really close enough. Dindin, who is now married to former Bulldog Chico Manabat, stands six-foot-two but is very agile and has a cunning and vicious running attack that never fails to baffle opponents.
3. Unheralded UST players crowned Boracay Beach Volleyball champs
UST's Cherry Rondina and Rica Rivera brought their UAAP dominance to Boracay by winning the Nestea Beach Volleyball tournament vs. Cyd Demecillo and Kim Fajardo of defending champion La Salle.
The España-based squad, the reigning UAAP Beach Volleyball champions, beat La Salle in three-highly contested sets, 19-21, 21-17,15-13.
Rondina and Rivera may not have La Salle's massive fan base, but it doesn't make them less of a competitor and a winner.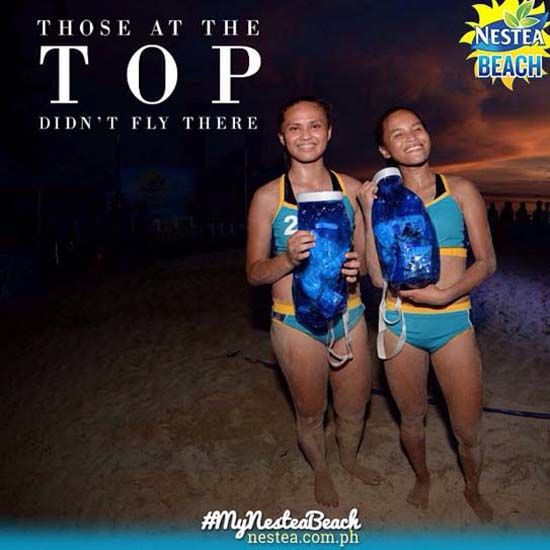 4. The best beach bodies are in
Who rocked the two-piece volleyball uniform in Boracay?
Are you on board the Light Team with Michelle Gumabao, Cha Cruz, Rachel Daquis and Gretchen Ho, or in the Dark Team of Amy Ahomiro, Dindin Manabat, Carmela Tunay and Tricia Santos?
It would be hard to choose, but we think FHM covergirls Daquis formerly of FEU and Santos of UST of Light and Dark Team, respectively, got this one in the bag.
The Light Team, however, won the 1st Nestea Court Crushers showdown against the Dark Team.
5. Reyes' love rubs Ravena the good way
La Salle's Mika Reyes went out with a date and with boyfriend and UAAP MVP Kiefer Ravena and wished him luck ahead of his National Team stint in SEABA.
And it was all the King Eagle needed to get going.
Ravena had an all-around game with 11 points, four rebounds, three assists and four steals in the Philippines' 92-36 annihilation of Indonesia in the SEABA opener on Monday.
With such stats, it would be safe to assume that Ravena is indeed on a mission: to win for the country and not let Reyes down.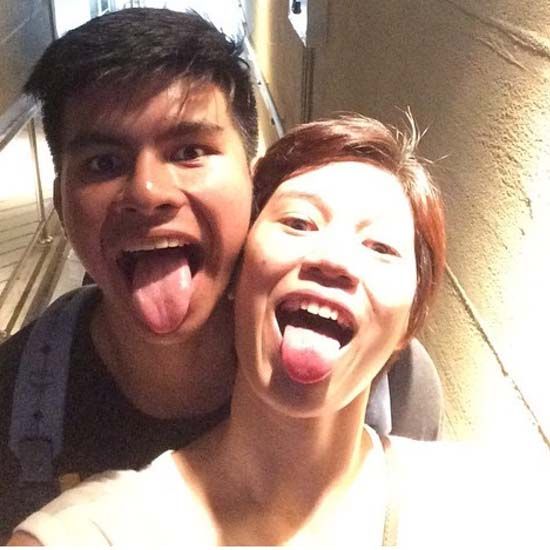 6. "Old" engine powers Petron to Finals
Veteran Maica Morada shone the brightest among her superstar teammates when she scored 11 points and 11 excellent digs in Petron's three-set win over Philips that earned them a second-straight Finals trip.
But Morada's exploits are not really surprising. A UAAP champion, she helped FEU reach the UAAP Finals during her rookie year in 20  06 before she finally won the UAAP title in 2007 with the beautiful dynamo Rachel Daquis.
But Morada, who used to have an unimpeachable swag on the court during her UAAP days by dusting off her uniform when she scores a point or pretending to wipe the floor if her opponent is at the receiving end of a kill, is just contented with tempered celebration nowadays.
"Salamat sa tiwala," was all Morada could say.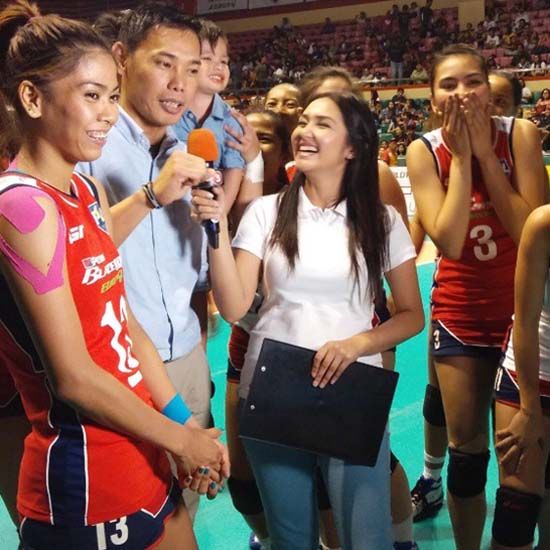 7. PBA Finals MVP: RDO or Benting?
TNT sniper Ranidel de Ocampo (RDO) won the PBA Commissioner's Cup Finals MVP, or did he really?
People's Journal's Theodore Jurado and PLDT setter Jem Ferrer are having a hard time sending congratulations to the right RDO, which could be de Ocampo or PLDT's Angela Benting.
"Congratulations, Angela! Finals MVP! Haha," Jurado tweeted.
MVP Angela! Wooohooo! Ay, si RDO pala yun. Haha," Ferrer tweeted.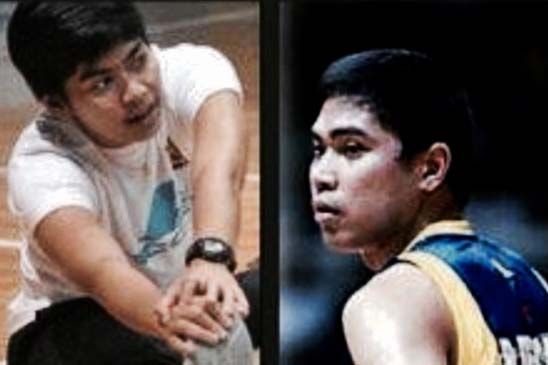 8. Meralco beats PLDT in beauty contest
Meralco lost in a five-set thriller vs. the PLDT, but its players did not lose everything.
For Joey Villar of the Philippine Star and Tiebreaker Times' Levi Verora, Jr., the Meralco ladies are still better looking than the PLDT players.
"I gotta say this, the All-Galeng team is PLDT but the All-Ganda team is Meralco! Me and My Big Mouth," Villar tweeted.
"Agreed," Verora added.
And we can't blame them. Meralco has heartthrobs Cha Cruz, Stephanie Mercado, Fille Cayetano and Jen Reyes.
But we think PLDT could also be in the same breath when it comes to being physically attractive with Charo Soriano, Alyssa Valdez and Dennise Lazaro in its fold.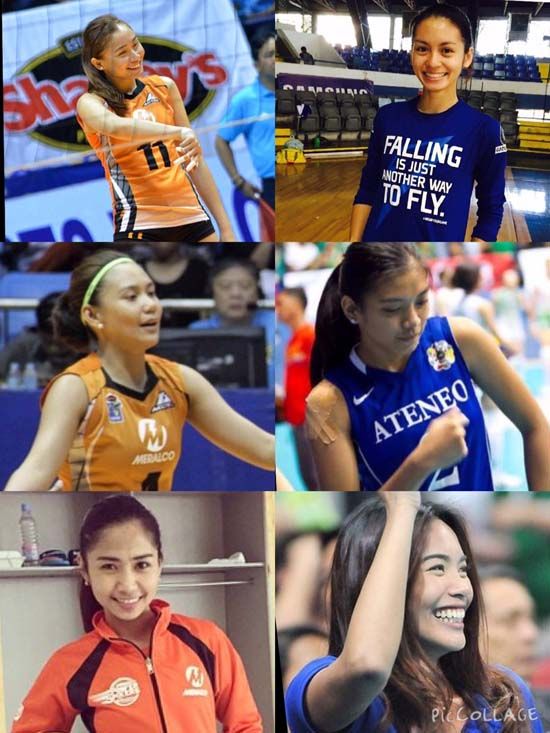 9. Airborne birthday for UAAP Finals MVP Ahomiro
UAAP Finals MVP and Lady Eagle Amy Ahomiro didn't have the balloons, food fest, booze and party poppers for her birthday, but she didn't need those at all for a memorable red letter-day.
That's because her fellow volleyball players threw a mini-party for her aboard a plane on their way to Boracay for the Nestea Beach Volleyball tournament.
Army's Rachel Daquis and Dindin Manabat, Shopinas' Cha Cruz and Michelle Gumabao, UST's Carmela Tunay, among others, ambushed the unsuspecting Ahomiro with a riotous Happy Birthday song number and a birthday cupcake in greeting Ahomiro on her special day.
Ahomiro was clearly dumbfounded of the surprise but eventually got her bearings in time to somehow dance to the birthday song.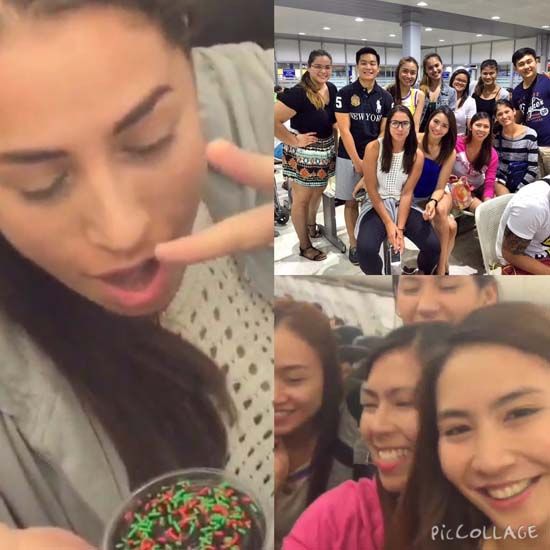 10. "Boracay couple" alert: Daquis and Matsunaga
Petron star and FHM covergirl Rachel Daquis had a nice photo op with fellow model Daniel Matsunaga, and the fans are loving the idea of them as a couple.
And why not? Both are insanely good looking and funny, on top of the fact that they both have great bodies.
Besides, both of them are into modeling and sports, so cupid should be just around the corner waiting to strike at the right time.